White Paper: Free Guide
Rethinking Global Customer Support
Fill out the form to download the white paper to find out how five extended support strategies enable enterprises to significantly drive adoption of their products, increase retention and account growth, and transform their support organization from a cost center into a revenue generator—with zero budget increase.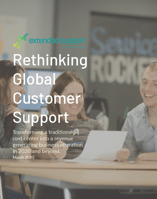 What's Inside?
The traditional view of looking at Customer Care and Support services as a cost center will no longer work.

Customer churn is higher than it used to be, with over 80% of B2B customers reporting that they change vendors within 24 months. It is also becoming harder to find qualified tech support employees. Technical employees have the highest churn of any role at over 13% per year. All this at a time when the cost of acquiring new customers is rapidly increasing year over year as B2B buyers become difficult to reach by phone and email.


A number of studies are now clearly showing that retaining customers has more impact on revenue growth than adding new logos.
This is where the new mandate for customer care and support comes in: become a revenue generator, rather than a cost center—not just by increasing customer retention, but going further and increasing customer adoption, leading to more revenues per account.


In 2020 and beyond, Customer Care and Support Organizations have the opportunity to become true revenue engines for their enterprises.


Download the white paper that describes five strategies that enable them to be just that.
Call (888) 707-0088 today to find out more.