Data Center and your disaster recovery plan
Atlassian Data Center isn't just for large companies. It's for companies in which the Atlassian tools have become mission-critical. If you answer "Yes" to any of the following questions, Atlassian Data Center may be just what you need.
Do you create, manage, and track customer-facing work in the Atlassian toolset?

Are there revenue implications to downtime?

Will downtime materially impact your most critical teams' ability to get their work done?
Speaker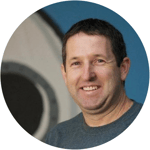 Greg Warner, Senior Technical Consultant at ServiceRocket, will help you understand when and whether Atlassian Data Center is right for you and how to make that decision. In this webinar, we will discuss:
What is Atlassian Data Center?

Why businesses upgrade to Atlassian Data Center.

When is the right time to start thinking about a high-availability solution like Data Center?

What to keep in mind before taking the leap.

What does a migration process look like?
As usual, in a ServiceRocket webinar, you may ask questions throughout the webinar to get just what you need out of the discussion.