The ServiceRocket Guide to Internal Service Management for Non-IT Teams Using JIRA Service Desk
According to Deloitte, 80% of Fortune 500 companies such as Ford, Intel, Whirlpool and Allergen use shared services in their operations. For good reason. The typical savings from implementing shared services ranges from 25% to 50%, excluding labor arbitrage. Imagine creating shared services organizations without processes and tools in place to track, manage, and deliver those services in an organized way.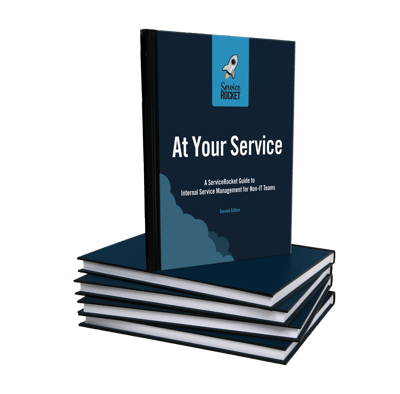 Many teams that offer shared services, like HR, legal, facilities, and even marketing, manage all requests with email inboxes, making it nearly impossible to do anything else other than to react to what is happening in the inbox. This is no way to live, especially when there are modern software tools that make it easy for internal customers to make requests and empower members of the shared services team to keep track of requests and manage them effectively.
Shared services leaders could learn a lot from how IT Help teams track requests, and this is why we wrote a guide to help you think differently about how to deliver better service to your internal customers.
After reading, At Your Service: A ServiceRocket Guide to Internal Service Management for Non-IT Teams, you will know:
How to identify your company's specific service needs and capitalize on updated collaboration and service management.
Why businesses should use modern tools when interacting with customers, especially if their company is growing at a steady rate.
How to adopt a more collaborative attitude and streamline the workflow process to get tasks done.
How app integration benefits not only individual employees, but the company overall
How to continue on the path to better service management through modernizing your business processes.
By following the areas covered in this guide, you will understand how updating your service management tools provides huge benefits benefits. By focusing on customers themselves, you will spend less time "resolving issues." Your customers will get the support they need, resulting in a trickle-down effect that will drive a culture of service throughout your organization.
Download the guide today!