Article: Free Guide
The Hidden Costs of Hiring Tech Support Employees
Fill out the form to download the short article.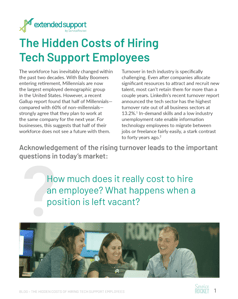 How much does it really cost to hire a skilled tech support expert? And what is the cost of leaving that position open?
The true cost of hiring a skilled tech support agent is not just the salary for that position. Actually, that is only the beginning of the true cost.


Mostly hidden in the headcount budget is the cost of bringing a new hire to up to full production, only to lose that person again shortly after.


Here are some alarming numbers:


1. It takes 6-9 months on average to hire and train a direct replacement.
2. Productivity loses per tech hire can be as much as $34,000
3. It takes 8.95 months to truly breakeven on a new tech hire


Considering the high turnover rates of technically savvy employees (over 13.4%) that is a very costly process. Not to mention, adding more stress and complexity during times of uncertainty.


Fill out the form to download the
short article
that explains the true costs of hiring tech employees in detail.